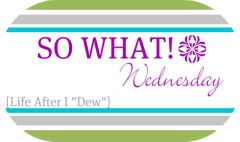 Linking up with Shannon at
Life After I "Dew"
and saying SO WHAT!
So WHAT if...
I completely reconsidered and repacked my bags for Denver after I tracked my package from Rue LaLa? They are to die for Ariat Legend Cowboy Boots and must be worn to blend my life of country western and New England prep with my Lilly Pulitzer carry-on. It looks fab. Trust.
I'm having dreams slash nightmares about seeing a former friend while I'm back? We have mutual friends and I know interaction is inevitable, but I just hope that it's not tense. Let's be honest, I can make conversation with anyone...including crackheads on the corner so they don't shank me...so I know that I can make the talking noises, but I just hope my emotions don't get the best of me and all those hurt feelings surface again.
I get little perturbed when people ask what's going on in my life on my status as if they missed the big announcements statuses? I mean, really. I'm moving to DC. It's old news. Keep up, lurkers.
I really have a false sense of importance? See previous So What.
I have 10 things on my work To Do list? This is more important. Priorities, people.
I read blogs, but don't comment all the time? Sometimes I only have time to read, not comment, verify a word and submit. Sorry, I'm a lurker and I know it.
I am excited for a white Christmas? I'm landing in a snow storm and balmy temps in the teens tomorrow. BRRRRRRRRR!!
I am dreading a cold Christmas? I mean, I dig this 60 degrees here in DC, now if we could just make some movie magic and have snow, too.
Did I mention I am excited about my boots? 'Cause I am. Just wait for the pics people.
Go link up with Shannon!