It's that time again when I hook up with
Shannon over at LAID
and tell the world SO WHAT.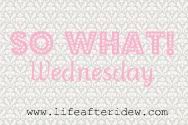 So what if...
I made cookies before going to the gym last night? They are my mom's fave, she gets into town Thursday, and they are amazingly easy to make. What my trainer doesn't know won't make me do more burpees.
I got a trainer and told him that I will complain and tell him I don't like him? I also explain that it's not truthful, it's just that I'm not a fan of inch worm push-ups in the middle of the gym.
If I'm not complaining, I'm saying, "That's what she said," and giggling? I can't help but make the good jokes.
I have my trainer convinced that my workout playlist has the phrase "Breathe in, breathe out" overlaid so that my blonde self remembers to breathe? This is reinforced from him having to remind me to breathe (I do forget).
I had chicken salad for breakfast? It's high in protein with the chicken, greek yogurt, and almonds. Now I can carb load Indian food at lunch.
I read tweets and fb statuses before bed? These create crazy dreams that are mash ups of things I've read. Explains why my kickball team busted out a la Glee in SexyBack on the kickball field after we found out we didn't win the overall season.
I read and walk to work/home? I sing Belle's song from Beauty and the Beast in my head and it makes me content, so as long as I pay attention to the intersections, I won't be, you know, hit by a car.
I'm dreading and uber excited for tomorrow all at once? I have back-to-back-to-back-to back (that's four) meetings, but my mom arrives from Denver. Thankfully it means that tomorrow will breeze by!
Now, go link up with Shannon and tell the world SO WHAT.