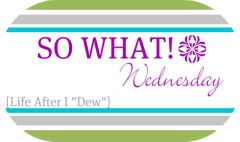 Linking up with Mrs. Dew at
Life After I "Dew"
to say SO WHAT!
So WHAT if...
I'm undefeated in the arguments I have with people...in my head? I use logic and reason and they have nothing to say back.
I'm on a blogging role this week? Sometimes, the mood just strikes you and you can't help it.
Even though I complained about the fact that DC doesn't exactly have winter weather, I'm not complaining that I just walked into work without anything more than a sweater? I dig the mild weather since I can only imagine how quickly it would get grey and ugly here with snow.
I totally complain about my glasses rub my headband? It jolts my vision, and me being me, I think I'm having a mini-seizure before realizing what is going on.
I am still talking to THAT ex? Yeah. I know. I know. But sometimes I get to exact my passive aggressive revenge via reply texts. It's the little things, my friends. That, I actually have pity for the kid when he admits that there's "no need to be in Denver anymore". Yeah. That's because he doesn't have me there. Boom.
I am congratulating myself and cursing myself for being so clever with my Christmas gifts? It's something special to DC and breakable, so naturally now I have to transport them with me to Denver on the plane. There goes my carry-on space.
I wish that Pandora would play more boy band Christmas music? C'mon. You know you sing along with "Merry Christmas Happy Holidays" with JT, JC, Joey, Lance, and Chris.
So what if I had to google that random last member of *NSYNC? Admit it. You forgot the dread head's name, too.
I have one heck of a laundry list of to-do's for the new year? Find a place to live, ship my furniture and remaining home goods, give up all my old court stuff, become legit in the new court, and work in two offices.
I may or may not be able to rival those "bump" pictures of you preggo eggos out there? THIS IS NOT A PREGNANCY NOTICE, but rather, I have enough Beyonce to mimic and confuse the hell out of people at formal events when I order hard alcohol and rub my belly. A parlor trick that is not for getting or keeping a boyfriend, but seriously hysterical.