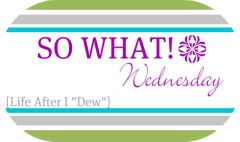 Linking up with Shannon at
Life After I "Dew"
for another So What Wednesday.
So WHAT if...
I really struggle getting off of the elevator on the right floor? I also forget to hit the floor button and most commonly press the wrong floor. Today? Up to 4 because I didn't press 3, rode up to 7 with the other lady in the elevator, back down to 4, got off thinking it was 3, then had to get on another elevator where I pressed "Ground Floor", then finally got up to 3.
I will not use the stairs at work? We've learned

what happens

when I interact with stairs. It's just best that I don't go there. Click that link and pay special attention to the comment from "Anonymous"...that's my dad.
I really cannot handle that Bawbwa Wawaas wants to make the Kardashians part of her "Most Interesting People of 2011"? I like to watch a little of one of their many shows, but I don't want Babs to dedicate part of her special to people who are already easily accessible.
I have short-timers?it's when you're on the final countdown to leaving your current position. The problem? That I have several projects that I must complete before I leave and they all require input from team members and committees of sorts...
I drank my dinner last night? I needed a glass of wine...or six...
I'm just realizing my elevator mess this morning was probably a residual of the former.