I'm linking up with Shannon at L.A.I.D. for another installment of So What Wednesday.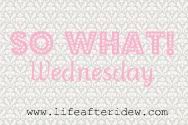 So WHAT if...
I am so excited for a weekend back in Denver that I can't really focus at work? You couldn't either.
I am obsessively checking the weather and flight status since there are thunderstorms a go-go through here and basically the whole part of the country that I have to fly through? When I was delayed to Boston for 4 hours and still flew through lightning, I've had my share.
I really love to fly and travel but have the shortest fuse when it comes to other passengers? You know who you are and you should know that you take your shoes off and there are no liquids above 3.4 oz, so leave your full size shampoo and conditioner behind.
In packing for my trip to Denver I wrote out the outfits for each day? It's detailed to workouts, lunches, weddings, and lounging. I was a little scattered brained when I was packing, so I had to keep it straight.
I learned my lesson that I can't multi-task chores? I can't do laundry and pack at once. See previous bullet.
I already know that my radio will be tuned to KYGO and The Wolf for the next 5 days? I don't get enough country music out here, so I need to get my fix. Oh, and it should help with a trip to Cowboy Lounge at some point.
I have planned multiple meals around Mexican food? Again, these parts are severely lacking in the Mexican food departments, so I have to get my fix.
My post is pretty much about travel and my trip to Denver? I haven't been home in 3 months, I miss my family and friends and all things Colorado. I have 5 days to squeeze in Mexican food, country music, the mountains, sunshine, BBQs, and rooftops.
The thing I most looking forward to is cuddles with my pup, Harry? That kid is so darn cute I can't handle it.