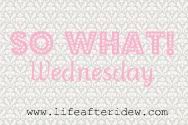 Another week linking up with
Shannon at L.A.I.D.
and saying "So What".
So WHAT if...
I didn't say, "So what..." last week? I was really busy getting ready for Boston.
I am really mad that I don't have a job where I can be wrong most of the time and change what I'm thinking at a moment's notice? Weather guys do it all the time and leave me in the lurch packing for mid-70s when it actually rains and doesn't get above 60 while I was in Boston.
I really love New England? I think I could travel up and down the coast and never grow tired of it.
I have been sick the last to days with a sore throat and a headache? I managed to sleep most of the time and wanted to die the rest of the time. What can I say? I'm a wimp.
I already want to be back home and in bed? But I know I need to get through the work day, get a work out in since I missed yesterday, and then I can go to bed.
I'm already plotting in my head how early my bedtime will be if I rush home? I like to plan my day.
I really don't like when people type in ALL CAPS? I get that you like to add emphasis, but when you do it ALL THE TIME, it just feels like you're shouting.
This week's post is kinda lame? I'm a little irritable from crappy, headache-y sleep since Sunday. (Maybe it's those Puritan ghosts.)
Go link up with Shannon and say your own So What!