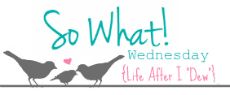 I may have been out of the rotation for awhile, but I'm back!
Linking up with Shannon at
Life After I "Dew"
and saying SO WHAT!
So WHAT if...
I have managed to log and schedule posts this week? I have decided that I need to stay busy to stay on track. I mean, it sounds like a great idea to nap all day, but it really effs with your sleep cycle during the week.
I have managed to not buy any Broncos gear? I am in love with the return of the orange jerseys. It's all that I have in will power to wait until I can hand pick my beauty at the team store next month.
I am oh so sick of the heat? I need layers. I need boots. I need sweaters. I need scarves. I need cozy reads with a Pumpkin Spice Latte. I need cooler temps stat.
I'm ready to break out the crock pot? Nothing says fall like football on Sundays and green chile or regular ol' chili? It's amazing what you can get done here on the East Coast when football doesn't start until 1pm.
I have a love/hate relationship with Pinterest? I mean, great inspiration for everything from workouts to cinnamon rolls with extra butter, but I can't deal with the holiday posts that are six months in advance of the holiday, i.e., STOP. WITH. THE. CHRISTMAS. ALREADY.
I'm still kinda in love with Robert Downey Jr. slash Tony Stark? You know why he plays a good Iron Man? Because he is Tony Stark without the Ph.D. and global dominating company. But you get the point. Swoon.
I'm a little all over the place today? Isn't that like one big SO WHAT?! I mean, really. This is a clearing house for my brain.