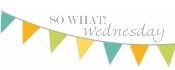 I'm linking up with Shannon at
Life After I "Dew"
and saying SO WHAT!
So WHAT if...
I am contemplating washing the clean clothes in the laundry basket because they are so wrinkled? I should have folded them when the laundry was done, but I can do it when I just was them again. Maybe I can just fluff them on the dry cycle.
I turned on the heat last night, just for the night? It was 68 in my apartment and I went to bed with wet hair. I was a little cold.
I broke one of my "Life Rules" and responded back to the ex? I don't know how long I'll talk to him before resuming radio silence, but it is what it is.
I'm still listening to Frankie Valli & the Four Seasons? I saw Jersey Boys this last weekend and it's really catchy and good-feely music. Granted, they aren't all happy songs, but whatever, they get stuck in your head.
I paint my nails on the go? I chipped a nail right before going through security at the airport. Not cool. So I peeled the polish off (thanks to a great base coat), while standing in the terminal I painted the nail, walked to check my gate, got on the little train, painted the nail with a second coat while we waited, and when the ride was done, added a dry-fast top coat. Done and done.
I have managed to stay caffeine-free for almost a month? It feels amazing, but limits the drink choices a smidgen.
I waver on what to do with my hair for my appointment on Saturday? I love having length for a ponytail, not a nubbin, but I really want to chop it all off and start over with a short, A-line bob.
I wish that Pandora had mood stations? Sometimes I want some happy, dance-inducing music, other times I want something that doesn't distract me.
I'm really slacking in posting about my trips, adventures in DC, and in general? I'm out-and-about and when I get home, I have more pressing things to take care of...like the laundry I never folded. See bullet #1.
Head over to
Life After I "Dew"
to link up and say SO WHAT!