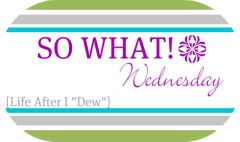 You know the drill, hook up with Shannon at
Life After I "Dew"
, and say, "So What!"
So WHAT if...
I'm already listening to Christmas music? It puts me in a good mood. So, why not?
I'm ridiculously excited for Friendsgiving and Thanksgiving for the side dishes and desserts? As my co-worker puts it, it's all baby food. Which makes it easier to eat and fit more in my stomach. Athankyouverymuch. And, as

tweeted

yesterday, I may or may not have taken mashed potato hits off the pastry bag when making Twice Baked Potatoes. It's like healthy whipped cream. Don't hate, appreciate.
I'm not impressed with Occupy DC? Every time I walk past their tent town in McPherson Square, I've never seen a person that was standing with a sign, passing out flyers, or exercising free speech by "preaching" or yelling their needs/ideals/complaints. Also, if they look to captivate an audience, I would suggest that they rise during the morning commute because once we're in our buildings, we can't see or hear you. Basically, to me, you look like you're camping. Just sayin'.
I'm in some serious need of some country music? I can only get so much without having a radio or a commute that let's me get internet radio. See also: I need some line dancing and cowboy boot wearing.
I'm a brunette? Oh wait, now that I'm dark, I can see exactly how much I shed all over my white bathroom. Seriously, how am I not bald?
I'm social media-ed out? OK, I've got fb, twitter, this blog, my DC blog (

Adventures In the District

), pinterest, and others. Legit spread thin. Somethings have got to give, so I rotate my attention.
I'm pretty sure I'll be living in skirts this winter? With my Hunter boots, tights/leggings, and fleece boot liners, I'm going to move my fall wardrobe through the winter. Not to mention the accessorizing makes it a whole new outfit, right?
I have finally found a nail polish that encapsulates my impulsive self with nail color? It's a deep wine color called Mr. Right Now. Never a truer shade named or created.
This is the extent of my productivity at work?
Highly productive, no?
You don't get that picture of workflow? You clearly don't appreciate the musical stylings of Stanley Burell or Robert Van Winkle. FYI: that's MC Hammer and Vanilla Ice.