A little late in the day, but I'm linking up with Shannon at
Life After I "Dew"
for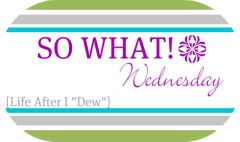 So WHAT if...
I'm just now getting around to my post for the day? I'm actually working at work and those precious few moments of sanity I steal away are for mental health, not blogging.
I'm totally being lame and watching Eclipse while laying around? I love this crappy acting from Kristen Stewart because I love the series. I might have to re-read the entire series it's that good.
I left my book (thankfully not my nook!) on the plane? Seriously, survival was mandatory to exit the plane and I paid the literacy forward for someone else to read The Lost Symbol.
I think I need to re-read the series to remember the passion between Edward and Bella since Kristen's cold fish acting does nothing for my imagination.
I'm considering ironing my sheets? Legit love to iron and sheets are the easiest to do. Not the fitted sheet, but the flat sheet and pillowcases.
The extent of my drive to actually iron the sheets ends with that last so what? At least I thought about it.
I have to limit my time on Pinterest? Legit have to set a timer because I look at it before bed time, but get sucked in. Well, that's when the iPhone app is working.
I honestly don't know how to deal with consistent weather? Colorado always throws you curve balls, but in DC, it's the same forecast and I don't have to carry an umbrella unless there's a forecast for rain.
I joke that my job may drive me to drink? I mean, it can be frustrating, but really I do love it. Love. It.