Linking up with Shannon at
Life After I "Dew"
...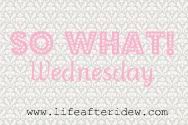 So WHAT if...
I pulled a page from the resourceful cook's substitutions and sauteed my mushrooms in fat free mayo? I know. It sounds weird, but it's eggs and oil. It makes a creamy base and is amazing with chicken, mushrooms, and green bell pepper. You should try it.
I eat the same thing for lunch and dinner when I'm watching what I'm eating? I don't need brain damage to cook all the time and decide what to eat. Cook once, eat 4 or 5 times. Much easier.
After only 2.5 days without caffeine, I'm sleeping insanely well? And I can stay up later than 8pm (unlike Monday night.)
Even I am a little creeped by the cooking with mayo thing? It does taste amazing, but interesting and a leap of faith for sure.
I still haven't posted pics from any of my trips? I need to edit some, download others, and possibly get my life together. So don't hold your breath.
I succumbed and join Pinterest? I love the inspiration for life and fun. Granted, I haven't created any pins and have only re-pinned 2 things, but whatever.
I am excited for all sorts of football? It's what fall is all about! There's the Rocky Mountain Showdown this weekend between CSU and CU, then there's the Broncos against Cinci, and every other game I'll watching in the meantime.
Link up with Shannon and say your own, "So WHAT!"