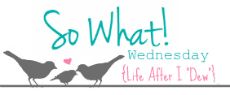 It's Wednesday and it's time for another round of SO WHATS!
So WHAT if...
I had frosting for dinner? I'm a grown-up and that's all I had the capacity for at 10:30pm after working all day.
I worked from 7:30am - 10:00pm on Monday? I picked up some shifts at my yoga studio Tranquil Space. I love it there. As I told you here. (Yeah, another SWW post - Namaste Edition.)
I'm already packing for my move in three weeks? It's never too early to get ready for a move because it's less to do all at once.
I'm beyond excited to take what was the bachelor pad of an apartment and turn it into an LC & Ana shabby chic abode? It's in need of some TLC.
I picked my paint color for my bedroom on two things? 1) I wanted a shade of grey (don't read into that, it's just what matches white and eggplant purple) and 2) the suggested color from Benjamin Moore to compliment the neutral color was Colorado Gray. It was a sign.
I finally took care of a 5 year old 401(k)? Yeah, I left the company over 5 years ago, but it was still earning money and I didn't really have a need to draw from it.
I was 23 when I started that 401(k)? It's never too early to plan your retirement since I don't want to be 80 and working.
I'm trying earnestly to finish Fall of Giants? I trade off on heavy read/light read and right now, I need some levity because it's all about WWI. And not in the whimsy Downton Abbey way.
I miss Downton Abbey to the point of thinking to order seasons one and two on DVD? It supports my local PBS.
It's a holiday weekend but I'm working all but Saturday? Granted, it's short shifts on Sunday and Monday, but people have to get their yoga on.