You know it's been busy slash I have writers block slash I'm too lazy when it's been weeks since my last post and I get back into the blogging with a well-timed link up with
Shannon
at
Life After I "Dew"
and say so what.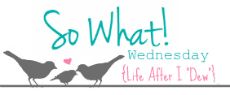 So WHAT if...
This is the first post in a while? Whatever. It's quick and to the point.
I whined a little this morning when I punctured my thumb with a bobby pin? That thing hurt and bled like a mother trucker. My bathroom looked like a murder scene.
I laughed so hard I cried and snorted this morning in the office? This is totally worth it when you're having a bad day. Click it. Trust me. You're welcome.
I've had the most random songs stuck in my head? Sanford & Son, Mr. Sandman, Somebody That I Used to Know. And that's just what ran through my head while writing this.
I haven't really blogged since nothing more than 140 characters has struck me? I mean, there are some things that I could probably expand upon, but whatever. Refer to my third slash above.
I am pissed I didn't get anything from Rue LaLa's Lilly boutique? Like, legit infuriated that I couldn't click fast enough. I mean, did they only have one of each? Seesh.
I cannot believe how much yoga affects my sleep patterns? Seriously, y'all. I have some amazing sleep whenever I practice yoga. When I don't, I toss and turn. Who knew?
I am now a coffee snob? A co-worker brought in a milk frother and my life is forever changed. Seriously. Just frothing the milk makes the coffee taste SO MUCH BETTER. Try it.
I am plotting my summer travels? It's never too early. So far, I have Chicago for a bachelorette, but I'm thinking Vegas needs me there. And maybe the Jersey Shore to witness that shit show first hand.
I am beyond excited to get to Dallas next week? The padre y madre dos are settled in and I can wear my cowboy boots all the time.
I am BEYOND beyond excited for the NASCAR race next Saturday? The padre y madre dos life a couple of miles from Texas Motor Speedway. Let's go racing!!!!
I'm a Denny Hamlin fan? Legit hottie and he does the Dougie. I think that'll be my opener, "Teach me how to Dougie."
I'm also a Brad Keselowski? He tweets. During races. A man after my own social media heart.
I am now needing to make a packing list for my Texas trip? Otherwise, packing is going to get out of control.
Go link up with Shannon and say your own SO WHAT!